Duration: 5 days , Course language: english, Material language: english, Material: pdf
Description
Managing Professional Transition on mõeldud neile juhtidele ja spetsialistidele, kes on tublisti investeerinud eelmise ITIL v3 versiooni koolitustele ning nimetatud kursus pakub lihtsa võimaluse vaid ühe eksami sooritamisega jõuda kohe uue, ITIL 4 versiooni eksperditasemele, mille nimeks on nüüd Managing Professional.
Kursusele kvalifitseeruvad vaid need, kes omavad ITIL v3 Expert sertifikaati või on kõigi v3 koolitustega kogunud vähemalt 17 punkti.
Kursus annab tervikliku pildi olulistest teemadest ja teadmisest, mida IT professionaalid vajavad seoses uue, ITIL 4 poolt sisse viidud teenuste väärtussüsteemist (Service Value System, SVS) ja selle komponentidest. Kursus valmistab kuulaja ette ITIL Managing Professional (MP) eksamiks, mis kuulub koolituse juurde.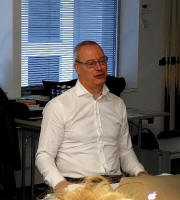 Kursuse materjalid on koostanud ITpreneurs. Nii materjalid, kui ka kursus ise ja kursuse lektor on kõik ametlikult akrediteeritud. Lektoriks on Arjan van der Poel Hollandist.
Kursuse teemad:
Peamised erinevused ITIL v3 viieastmelise teenuste elutsükli ja nendega seotud 26 protsessi ning ITIL 4 teenuse väärtussüsteemi (Service Value System, SVS) ja selle 34 praktika vahel
SVS mudeli ja tema komponentide käsitlus - teenuse väärtusahel, seitse põhipritsiipi, neli äridimesiooni, valitsemine, pidev täiustamine
Ülevaade ITIL 4 praktikatest, mida on 34 ja mis jagunevad kolme gruppi - üldine juhtimine, teenuste haldus ja tehniline haldus.
Nelja ITIL 4 jätkukursuse peamised teemad ja järeldused

Create, Deliver & Support
Drive Stakeholder Value
High Velocity IT
Direct, Plan & Improve
Eeltingimused
Registreerujal peab olema esitada kas ITIL v3 Expert sertifikaat või siis sertifikaadid teiste ITIL v3 eksamite kohta, mis annavad kokku vähemalt 17 punkti. Punkte annavad koolitused järgmiselt:

ITIL Foundation - 2
ITIL Practitioner - 3
ITIL SOA, OSA, RCV, PPO - igaüks 4
ITIL SS, SD, ST, SO, CSI - igaüks 3
Eksam ja sertifikaat

Koolitusele järgneva nädala jooksul teevad kõik kuulajad eksami.
Eksami täpse(d) päeva(d) me lepime kokku nii, et need kõigile sobiksid.
Eksam tehakse üle veebi. Eksam koosneb neljakümnest valikvastustega küsimusest, kus alati on vaid üks valik õige, teised valed. Eksami läbimiseks ja sertifikaadi saamiseks tuleb koguda vähemalt 70% maksimaalsest punktisummast st. tuleb anda vähemalt 28 õiget vastust.
Edukalt eksami sooritanud kuulaja saab ITIL 4 Managing Professional sertifikaadi. Kui edasi on veel soov saada ITIL 4 Strategic Leader sertifikaati, siis selleks tuleb edaspidi sooritada vaid üks eksam - ITIL 4 Digital & IT Strategy.
Maksumus
Kursuse maksumus sisaldab koolitusmaterjale, koolitust ennast klassiruumis, eksamit, lõunasööke, kohvipause, kuid ei sisalda käibemaksu.
Kursuse maksumus on 2300 1990 €.
ITIL 4 sertifitseerimisskeem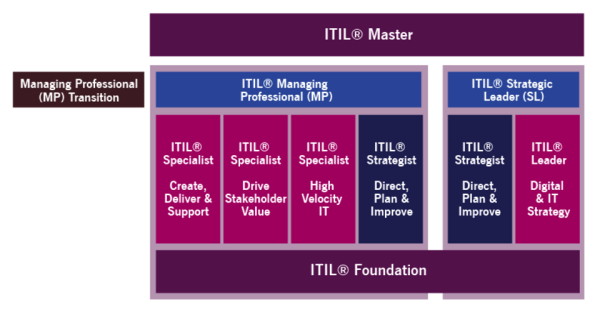 | Date | Start time | End time | Nb! |
| --- | --- | --- | --- |
| 20.04.2020 | 09:00 | 16:00 | |
| 21.04.2020 | 09:00 | 16:00 | |
| 22.04.2020 | 09:00 | 16:00 | |
| 23.04.2020 | 09:00 | 16:00 | |
| 24.04.2020 | 09:00 | 17:00 | |
Cancellation terms
If you can not participate this course, you can send someone else instead of you. If cancellation is done less than 14 days before the course start, we will charge 50% of the price. In case of no show without any cancellation, we will charge the whole price. Cancellation fee will also be charged in case of illness.