Duration: 3.0 days
Description
DASA DevOps Professional Enable & Scale koolitus on jätkukoolituseks DevOps Fundamentalskursusele. DevOps Professional kursuse fookuseks on edukaks tegutsemiseks vajalikud neli oskuste valdkonda - julgus (courage), meeskonna loomine (teambuilding), eestvedamine (leadership) ja pidev täiustamine (continuous improvement).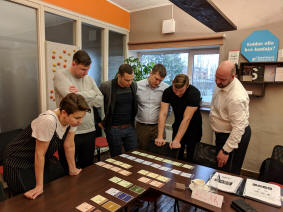 DevOps Professional tahab anda praktiliseks kasutamiseks vajalikke teadmisi. Selleks koosneb kursus nii loengutest, näiteülesannetest ja harjutustest kui interaktiivsetest grupitöödest.
Selle kursuse on koostanud DASA (DevOps Agile Skills Association). Vaata ka DASA DevOps kursuste skeemi kirjeldus.
DevOps Professional Enable & Scale kursuse teemad:
Miks on DevOps keskkonnas olulised julgus (courage), meeskonna loomine (teambuilding), eestvedamine (leadership) ja pidev täiustamine (continuous improvement)
Miks on julgus oluline usalduse, aususe ja eksperimenteerimse tekitaja
Millised on olulised DevOps keskkonna käitumismallid
Kuidas ära tunda tiimitöö takistusi
Kuidas luua häid DevOps tiime
Rahulolu ja motivatsiooni toime tiimi tööle
DevOps tiimi küpsuse hindamine
Kuidas eestvedajad soodustavad tagasisidet ja läbipaistvust
Kuidas liidrid usalduse loovad
Kuidas ja miks promotakse "Safe to fail" loosungit
Väärtusvoogude analüüs ja nende läbilaskevõime ja voolavuse parandamine
Pideva täiustamise tööriistade kasutamine probleemide lahendamisel ja retrospektiividel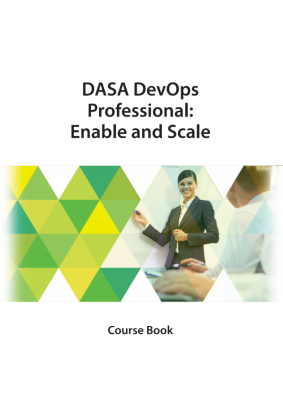 Kursus on mõeldud järgmistele kuulajatele:
IT arenduses, IT operatsioonides või IT teenuste halduses töötajatele
Spetsialistidele, kes on seotud DevOpsi ja pideva tarnega, nagu

DevOps insenerid
tooteomanikud
integratsioonispetsialistid
intsidendi- ja muudatusehaldurid
süsteemiadministraatorid
võrguadministraatorid
ettevõtte arhitektid
automatiseerimise arhitektid
ärijuhid
programmi- või projektijuhid
reliisihaldurid
Kursuse materjalid on koostanud ITpreneurs. Nii materjalid, kui ka kursus ise ja kursuse lektor on kõik ametlikult akrediteeritud.
Eksam ja sertifikaat
Koolituse lõpus sooritatakse rahvusvaheline sertifikaadieksam - DEVOPS PROFESSIONAL ENABLE & SCALE CERTIFICATE.
Eksam koosneb kaheteistkümnest valikvastustega küsimusest. Eksami läbimiseks ja sertifikaadi saamiseks tuleb koguda vähemalt 65% maksimaalsest punktisummast (36 punkti 60 võimalikust).
Eksam toimub üle veebi ja on äärmiselt soovitav, et kuulaja võtab oma sülearvuti kaasa.
Eksami tegelik kuupäev lepitakse iga kord kuulajatega kokku. See toimub reegline nädala jooksul peale kahe esimese koolituspäeva läbimist.
Maksumus
Kursuse maksumus sisaldab koolitusmaterjale, koolitust ennast klassiruumis, eksamit, lõunasööke, kohvipause, kuid ei sisalda käibemaksu.
Kursuse maksumus on 900 €.
Eeltingimused
Nõutav - DevOps Fundamentals sertifikaat
Soovitatav - üldised teadmised Agile, Lean, Scrum ja ITSM põhimõtetest
Päevakord
Päev

Kursuse sissejuhatus
Meeskonna loomine

Tiimide disainimine
Tiimi kokkupanek
Valitsemine

DevOps juhtimine eestvedamine

Kultuuri juurutamine
Eesmärkide püstitamine
Olla teenindav liider (servant leader)
Edule fokuseerimine

Julgus

Kultuuri juurutamine
Mõtle teistmoodi

Päeva kokkuvõte

Päev

Väärtus - kliendikeskne tegutsemine

Väärtuse erinevad aspektid
Huvipoolte haldamine
Lean Startup ja DevOps kombinatsioon
Story Mapping simulatsioonimäng

Pidev täiustamine

Voolamise (flow) tekitamine
Pideva täiustamise tüübid
Pideva täiustamise tööriistad
Kaizen simulatsioonimäng

Päeva kokkuvõte
Testeksam

Päev - kuulajatega lepitakse kokku täpne kuupäev

Eksam
---
Cancellation terms
If you can not participate this course, you can send someone else instead of you. If cancellation is done less than two (2) weeks before the course start, we will charge 50% of the price. In case of no show without any cancellation, we will charge the whole price. Cancellation fee will also be charged in case of illness.